English
About Yoshino Park
This park was built for the citizens of Kagoshima Prefecture's recreation and other purposes. It took eight years, from 1964 to 1972 (Showa 39 to 47), to build this Urban Park as one of the city planning project. This park is located on a 234m high tableland which is 8km northeast away from the center of Kagoshima City. The well-known Kinko Bay, volcano Sakurajima, Mount Kirishima, and the Kaimondake volcano can be observed from the park's observatory. Other than that, there are 70,000 trees of over 140 species planted here in Yoshino Park.
Through the front square of the park, there are sunken flower beds surrounded by Camellias. Near the sunken flowerbeds, the main attraction of the park, a water fountain with the Sakurajima as its background scenery can be found. Near the water fountain, planted 40,000 colorful Azaleas flower which blooms in the early April. There are also two gardens, southern country-styled garden and a Japanese-styled garden inside the park.
In 1989 (the first year of Japanese Heisei), our park, representing Japan, was chosen as one of the Top 100 Urban Parks. Other than that, we also held the 28th National Urban Afforestation Fair of Kagoshima (also known as Hana Kagoshima 2011) that lasted 66 days through 18th March to 22nd May 2011 as the main venue.
Name:Kagoshima Prefectural Yoshino Park
Date of Grand Opening:16th May 1970 (Showa 45)
Location:7955, Yoshino-Cho, Kagoshima City, Kagoshima Prefecture
TEL:099-243-0155
FAX:099-243-0156
Area:30.9ha
Opening Hours
April ~ June & September:6:00am ~ 7:00pm
July & August:6:00am ~ 7.30pm
October:6:00am ~ 6:00pm
November ~ February:7:00am ~ 5:00pm
March: 7:00am ~ 6:00pm
Closed Days:29th December ~ 31 December
Entrance Fee: Free
To our foreign customers:
【Notes】
Please cooperate with us by following the rules of Yoshino Park stated below.
Thank you.
●About the Use of Toilets
Please flush the toilet paper after using. Please do not throw it into the rubbish bin.
●About Smoking
After entering the main entrance, there is a smoking area located on the right-hand side. Please smoke in the smoking area and throw the cigarette butt into the ashtray. It is forbidden to smoke outside of the smoking area or smoking while walking.
●About Garbage
Please bring your garbage with you. Littering is strictly forbidden in Yoshino Park.
【The Map of the Park】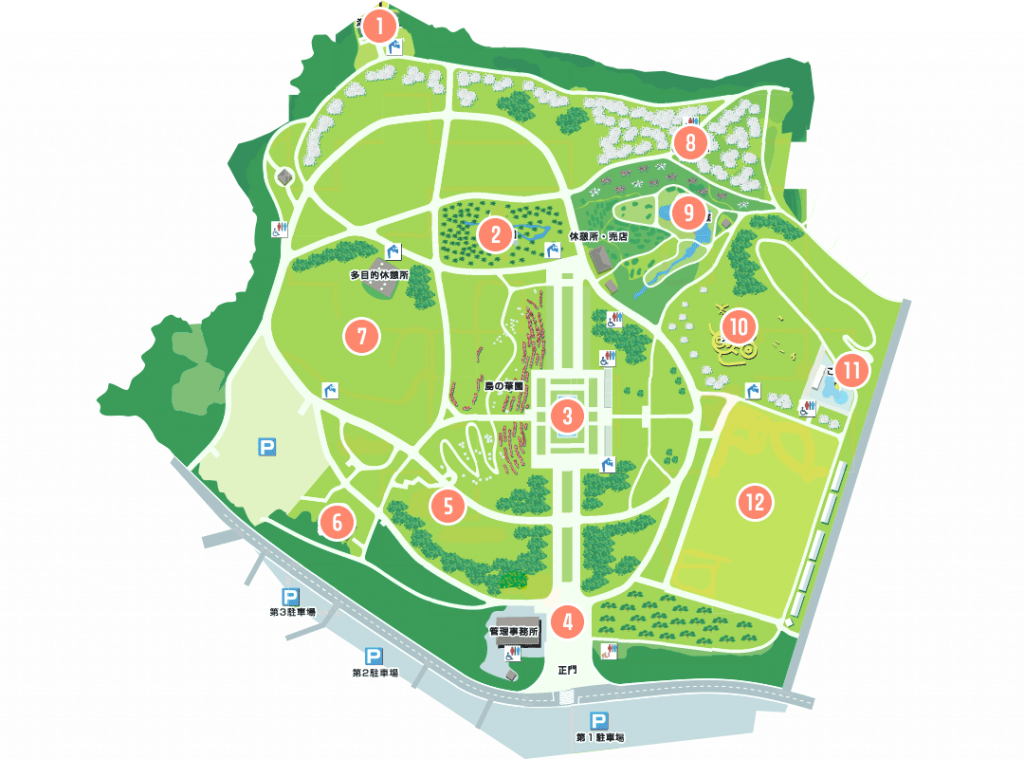 【Access】
●By bus from the city center
★Please take the route buses (Nankoku Bus) depart from Kagoshima City Center to Yoshino Park or Yoshino Golf Club. Please check the link below for the timetable.
→Bus Timetable (https://nangoku-kotsu.com/timetable/)
●By car
★Please take the Japan National Route 10 for about 6.1km.
★Parking Lot Spaces:
Permanent: 420 vehicles
Temporary: 800 vehicles